In 1998, Matt Hagny founded Exapta Solutions, Inc. because he wanted to provide better tools for no till farming.
About Exapta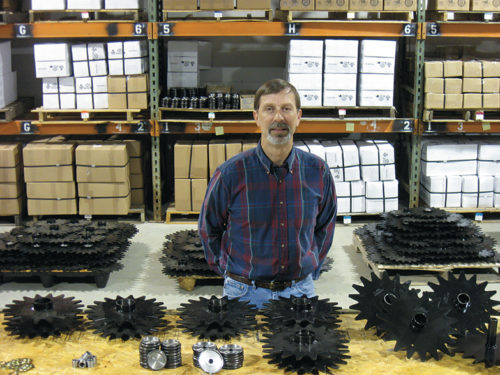 We design, manufacture, and distribute more than 100 add-ons, attachments, parts, and equipment for drills and planters.
We sell no till products for the top manufacturers of farming equipment, including John Deere, Kinze, Monosem, Case IH, AGCO-White, and Great Plains.
Our simple mission is to make no till farming more profitable, and we do this by manufacturing parts that are:
more durable
easier to install and use
more efficient
more apt to produce consistent crop emergence and higher yields
Please make note: Our company is located in Salina, Kansas, and we ship no till equipment, products, and parts anywhere in the United States and Canada, as well as throughout the world.
About Matt Hagny

Matt Hagny is a leading expert on no till seeding and has been a consulting agronomist for no till systems since 1993. From 1994-2001, Matt offered a custom no till seeding service for farmers in Kansas, which led him to invent many of the products that we sell today. Farming is in his blood – he grew up on a grain and cattle farm in South Dakota.
For further information, please call us at (800) 417-8020, or e-mail info@notillagriculture.com.