No till planting is gaining in popularity every year, thanks to improved techniques and equipment.
In no till planting, there's no tillage of the soil needed. Instead of turning over the soil, a drill or planter creates the individual seed furrows.
The Best Seed Placement
The key to success with no till seeding is to create the best seed placement possible, as well as conditions that promote vigorous seedling growth:
consistent depth, so that all of the plants will emerge at the same time
seeds embedded into the bottom of the furrows, before dust and chunks of sidewall can fall down into the furrow
sidewalls broken up, for easy root penetration
loose material above the seed, to promote rapid germination and emergence with the least stress for the seedlings
How To Obtain Good, Consistent Seed Placement
To obtain the very best seed placement, row after row, crop after crop, in different types of soil conditions (wet, dry, compacted, etc.) and weather conditions, these are some basic requirements: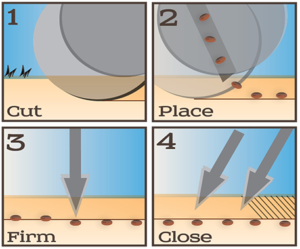 consistent furrow depths (our UniForce hydraulic down-pressure system, which adapts to John Deere no till drills, prevents bouncing and exerts uniform pressure on all openers)
proper seed placement in the furrow (we make a seed bounce flap for John Deere no till drills that helps deflect seeds down into the bottom of the furrow)
seeds adequately firmed into moist soil at the bottom of the furrow (we make a wire stiffener for Keeton seed firmers)
effective closing system that breaks up sidewalls that are smeared and compacted, but without doing extra packing in the process (we make a spoked wheel for no till drills and planters)
If no till planting is done correctly (and other agronomy and management are good), you can then obtain the following benefits:
higher crop yields
reduce or eliminate fallow periods
more profitability
more fertile soil
less soil erosion
less water evaporation
For further information on how we can help make no till farming easier and more productive, please call us at (800) 417-8020, or e-mail info@notillagriculture.com.
Please make note: We sell no till products, parts, equipment, add-ons, and attachments for the top manufacturers of drills and planters, including: John Deere, Case IH, AGCO-White, Monosem, Kinze, and Great Plains. All of our no till equipment and products can be shipped anywhere in the U.S., Canada, and the world.