Below are some of the top original equipment manufacturers (OEM) of equipment that can be used for no till farming. We sell add-ons, parts, attachments and equipment for no till drills and planters that enhance and improve OEM performance.
John Deere
John Deere is a manufacturer of planters that can be upgraded to be highly effective in no till. Also, John Deere manufactures the very popular no till drill, the 1590 and 1890 and kin, and the preceding models with very similar openers, the 60 series and 50 series.
Kinze
Based in Williamsburg, Iowa, Kinze makes planters that can be upgraded to be more effective in no till. They have a very similar opener configuration to the Deere planters.
Monosem
Based in France and founded back in 1945, Monosem manufactures planters and cultivating equipment. In 2016, Monosem joined the Deere & Company group. Their planters once used Kinze openers, but more recently have been building their own (the 'French' opener).  Somewhat less effective than the John Deere, Kinze, and AGCO-White due to the gauge wheels being too far forward in relation to the opener blades (too much sidewall blowout). Excessively thick opener blades with shallow bevels don't help any either.
Case-IH/New Holland/Flexi-Coil
Case IH was created in 1984, when Tenneco bought the agricultural division of International Harvester and merged it with its J.I. Case Company. Case IH manufactures drills and planters and has manufacturing operations in Wisconsin, Nebraska, and North Dakota.
Great Plains
Based in Salina, Kansas and established in 1976, Great Plains Manufacturing makes both planters and drills.
AGCO-White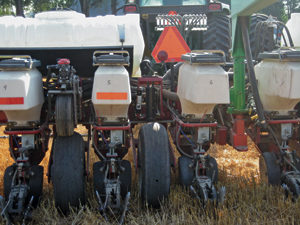 Founded in 1991, AGCO's headquarters are in Duluth, Georgia. Two of their top brands are Sunflower and White Planters.
For more information on these or other manufacturers, or to find out if our parts and equipment will fit your drills and planters, call us at (800) 417-8020, or e-mail info@notillagriculture.com.